We are a top-rated reglazing and refinishing company in Newark, NJ
Professional Bathtub Reglazing & Restoration
We provide one of the most affordable, quick, and cost-effective accessibility conversions available today, as well as the best bathtub and tile refinishing, to residents of  northern NJ (bathtub paint). Many people decide to refinish their bathtubs instead of replacing them because of the hefty cost of doing so. We were able to create a process of refinishing that is significantly less expensive than a full replacement by utilizing an abundance of new technologies.
We are truly experts in our craft and over the span of 20+ years have refined the reglazing process. Our consumers love our unwavering commitment to their service and our attention to safety and detail. Regardless of the size or complexity of the task, our reputation is built on service, safety, and quality.
We work hard to produce results that are high quality and durable. High-quality products and equipment allow us to do the job right, the first time. Customer satisfaction is guaranteed by our business. Because our clients' health is of the utmost importance to us, we ALWAYS VENTILATE our working spaces and use LEAD-SHIELDING PRIMER to protect them. Our reputation has been built through experience and successful outcomes; we do not cut corners.
Please don't hesitate to get in touch with us if you're looking for an affordable approach to increase the value of your house. All of your worries will be attended to with pleasure.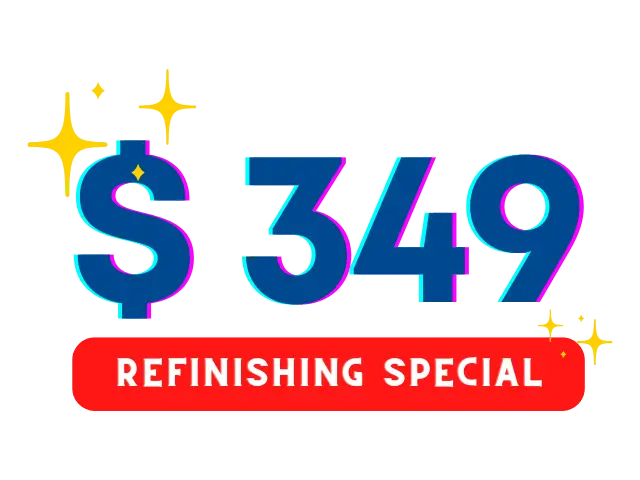 Why spend a large amount of money replacing your countertops when you can reglaze them, save money, and increase your property value at the same time?
For bathtub repairs, replacement, cracking, and plumbing, we've got you covered with our bathtub services. We also offer other bathroom services to make yours look even better!
Planning to change your bathroom tiles? Why not hire a professional team to do it for you?! Bring your dream aesthetic to life with our wide assortment of tile designs and colors.
We have a great custom-made service. Choose your layout or design and we'll make it happen! We can also give you the variety of colors that you want to make your bathroom more personalized and "you".
Do the tiles around your bathroom look so bad that you almost can't stand to be in there with them? Don't look away, if your wall tiles aren't making you happy, you can just reglaze or change them to how you want them to be.
Reasonable Pricing for Quality Results
Professional Plumbers & Technicians
Timely Arrival & Quick Results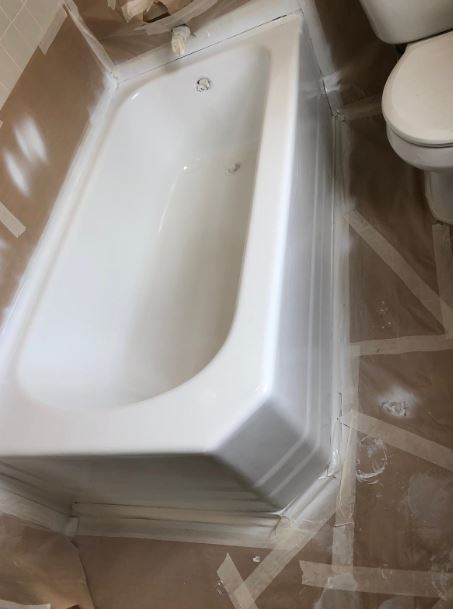 Benefits of Reglazing Your Bathtub
Still unsure if tub reglazing is for you? Well, read through this first! 
Did you know that the average person spends a lot of time in their bathroom? You probably noticed that you do the same thing too. 
Hygiene and the call of nature aside, people have turned to using their bathtubs to destress and relax. Now, imagine if the kind of tub you have isn't up to par to the kind of aesthetic or functionality you want. Event the smallest detail or inconvenience can cause a good day to go bad.
That's why it's essential to consider reglazing or restoring your bathtub, and while you're at it, your entire bathroom! It's as good as investing on a comfortable bedroom and a workable kitchen. Not only do you get the peace of mind of being in a place you enjoy and find no stress in, you're also giving yourself the following pros:
When it comes to things you typically use in your house and which you want to last long, it's best to leave the tinkering to the experts who've had decades of experience doing it.
All things considered, getting your bathtub reglazed or restored by a professional is relatively inexpensive. In exchange for getting an expert to do the work, you as the home owner gets to save time, and the assurance that the job was done right. You also get benefits like:
selecting the right contractor
When you have decided to hire a professional to do the reglazing or refinishing for you, the next step is to be considerate of the following factors as you choose the contractor. Regardless of what you want to prioritize (e.g. location, reviews, tenure, etc.), selecting the right contractor is still a task in and of itself. Unlike before, many tub reglazing businesses tend to service the same area offering similar prices for the same quality results. That leaves you with several options and the question — "which one should I hire?"
Here is where this section comes in to help you. Before you hire someone to refinish your bathtub, get estimates from at least two or three companies to make sure you're getting the most competitive rates. Be sure to ask potential contractors:
What kinds of bathroom services are they offering? How varied are their paints and tile designs?
Can they offer you any warranty?
How soon can the worker arrive to your home?
How many of them will be present during the task?
Do they conduct background checks?
How many years have they been reglazing tubs?
How many projects do they complete in a month?
Where can you find reviews about them?